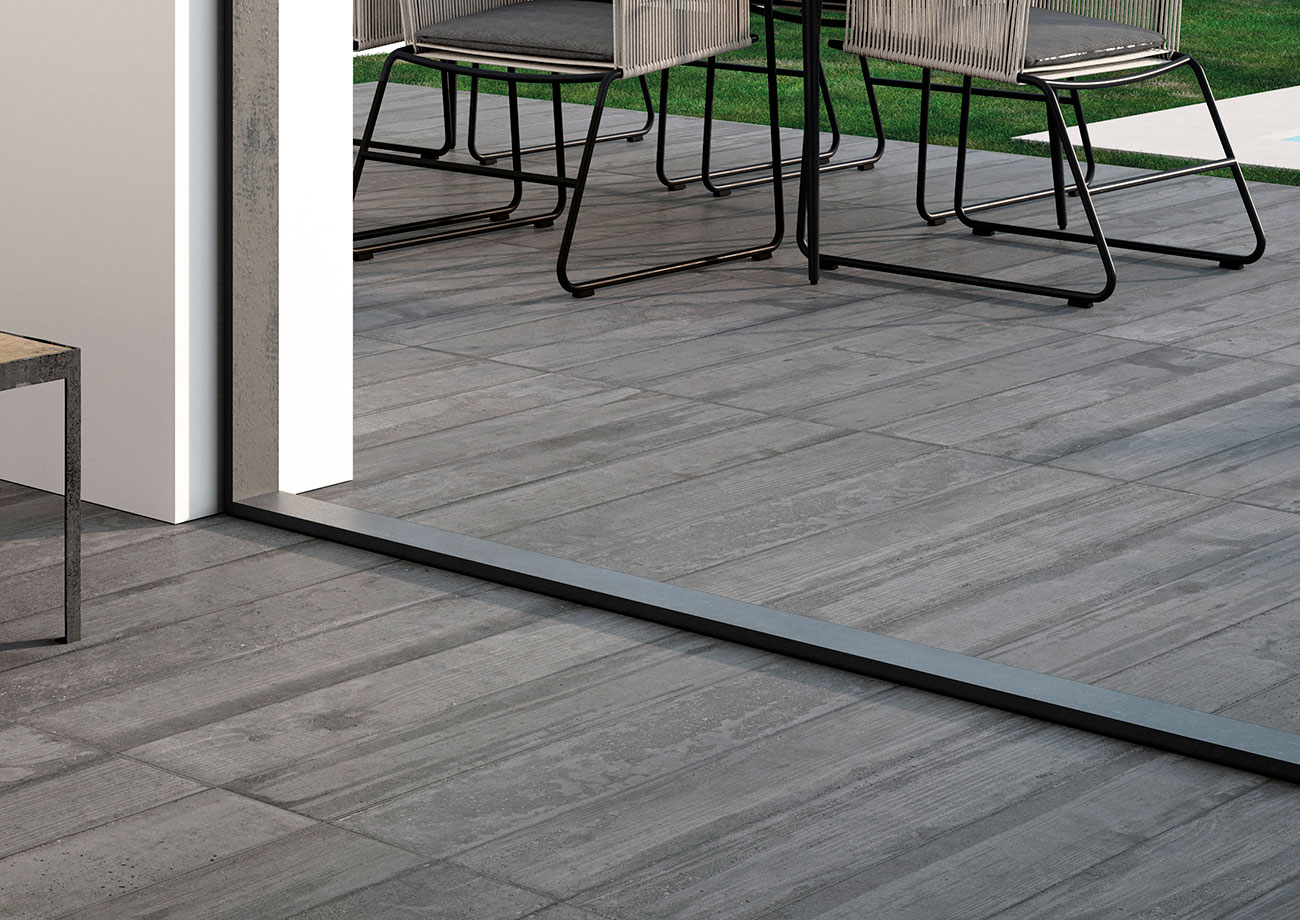 Ceramics for Exteriors and Terraces
Contemporary architecture is firmly committed to promoting the connection between interiors and exteriors, creating open and bright spaces that are delightful to live in. In the cities, life has to make do with patios and terraces, which become sources of natural light and constitute private universes for enjoying life outdoors without leaving the house.
The key to this interchange between the interior and the exterior lies in generating a continuity between spaces that provides greater homogeneity and visual scope. Porcelain stoneware play an important role because of the non-slip technology applied to the collections. These enable the interior universe to spread towards the outdoors.
The versatility and wide range of finishes and styles that can be found in ceramics today enable environments to be designed that are aligned with the latest interior design trends and integrate spaces in which the line between the inside and the outside fades away.
Cement is one of the materials that has been gaining enthusiasts season after season. Because of its relaxed aesthetics and neutral colour palette, it is ideas for most contemporary styles, integrating perfectly both indoors and outdoors. Surrounded by gardens or green areas, it generates an exquisite contrast that makes it one of the best choices for exterior decoration in 2019.
In townhouses, with small terraces and balconies, connecting the home with the exterior through the use of continuous flooring has become a key trend. Any area, however small, can become a fantastic spot for enjoying breakfast in the sun or a place to read while feeling the breeze at sunset.
If you are looking for a style that will outlive time and fashions, Wood is undoubtedly the perfect material. Because of its warmth and the naturalness of its graphics, it is an option that encourages the connection between interior and exterior universes while maintaining its own style. The result: charming terraces, porches and balconies that become the epicentre of the home during the warmer months.
Nowadays, it is possible to fine porcelain woods that are ideal for terraces, swimming pools, jacuzzis and solariums that are inspired by traditional boat decks or waterfronts. The appearance of a natural platform and its relief pattern that allows water to drain away enable you to achieve a result worthy of the best hotels and resorts.
The great advantage of ceramic wood for the exterior is the absence of maintenance and its resistance to weather conditions and external attack, together with antislip properties that prevent from falls and slips around swimming pools, wet areas and heavily-trafficked spaces such as terraces, restaurants and chill-out zones.