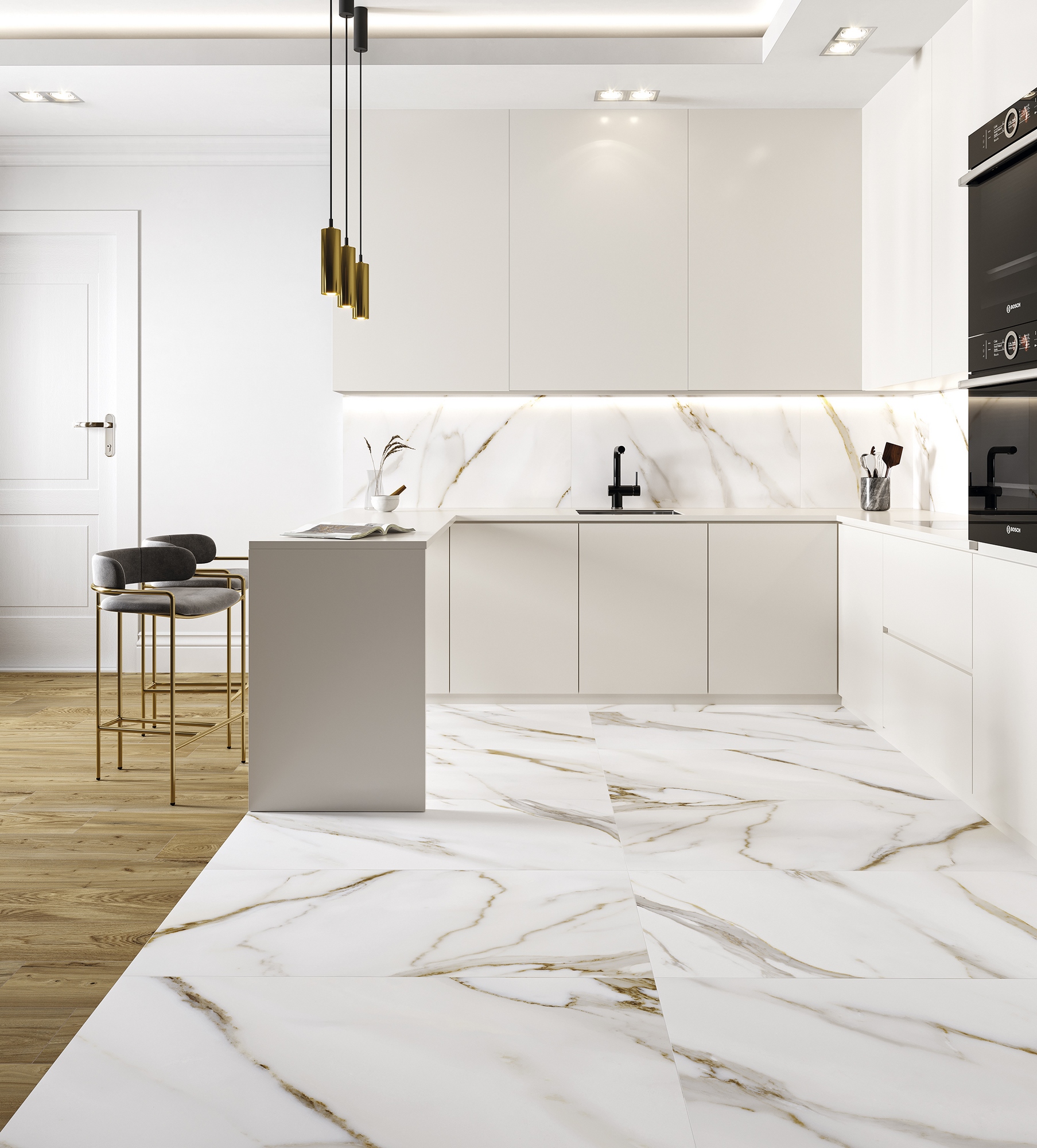 What is porcelain?
Porcelain is a type of ceramic coating made from pressed and fired ceramics with very low porosity. This is its fundamental quality, as its high performance depends to a large extent on it. Porcelain, therefore, is the ideal solution as a coating and/or flooring, both for interior and exterior decoration, given its resistance to frost.
Its main characteristics are:
Its high resistance to abrasion makes it a very durable material, resistant to impact and scratches.
Its porosity is practically null and so is its absorption of liquids.
It is very compact and resistant to sudden changes in temperature.
Its resistance to chemical substances such as cleaning products or the use of acids in workplaces make it unique for floors exposed to this type of aggression.
Minimal maintenance, any neutral soap or detergent is sufficient for cleaning.
Hygienic, since its inert nature and impermeable character allows to prevent humidity, avoiding the development of colonies of germs and fungi.
Non-slip, making it perfect for outdoor areas such as public spaces, workplaces or terraces and gardens.
It is stain resistant so it is a great substitute for some natural materials such as marble that stain easily.
Its colours remain unalterable despite being subject to sudden changes in temperature or exposure to the sun.
It's easy to apply. It can be cut or perforated according to the decorative needs of each project.
From an aesthetic point of view the porcelain floor is unequalled:
For their colors and designs, covering a wide range of tones and different nuances and effects.
Due to its textures, capable of fusing with the natural and synthetic materials desired and faithfully reproducing woods, stones, marbles, cements…
For their formats, with as many options as there are ideas.
As can be appreciated, there is a whole universe of decorative reliefs taken to their maximum expression in wall and floor coverings capable of creating spaces full of personality, elegance and sophistication to satisfy the most demanding decorative projects.
Due to its versatility and avant-garde designs, porcelain is the coating par excellence.
It has become the essential material for decorating walls and floors, designing facades and even countertops and furniture. Whether for new buildings or renovations, for the decoration of kitchens, the design of bathrooms or the refurbishment of the living room is the solution for comprehensive decoration and interior design projects.
With interior porcelain it is possible to reproduce natural materials with the maximum realism such as wood, stone or marble, providing a wide spectrum of possibilities for the design of environments at the same time that is more practical and less expensive than natural stone. We can reproduce classic environments with the most overwhelming luxury with shiny porcelain or recreate the most rustic environments with an overwhelming personality.
Thanks to its antislip finish, with porcelain stoneware for exterior we get anti-slip flooring ideal for Terrace and garden floors and as a highly weather-resistant decorative coating. Undoubtedly, it is also perfect for floors with high traffic in commercial premises, public spaces or workplaces.
A wide range of decorative possibilities
Classic environments with rectified porcelain flooring, glazed or polished that reproduce the sophistication of the most traditional marbles with a contemporary and very chic touch.
Rustic environments with imitation wood porcelain floors whose hallmark is the worn or aged effect.
Industrial environments with soft cement effect pavements or strong character, available for the style of each project.
Vintage environments with hydraulic porcelain tiles with geometric designs that transport to past times and will captivate lovers of color and ceramic tradition.
Modern and avant-garde environments with natural stone imitation coatings with the most realistic textures you can find.
If you are thinking about renovating your house, work place or that outdoor space with which to enjoy your leisure time, porcelain stoneware is undoubtedly the best choice.